I have friends that take their dogs to get trained by dog trainers. I don't know a lot about them, but I have always been curious. I know a lot of people who swear by them. I haven't really had the time or the money to be able to do it. It is something that interests me though.
Dogs are naturally curious little animals. I remember when I used to walk my Siberian Husky. He would drag me down the sidewalk to smell a bush or greet another dog. I had very little control and he was so strong. My husband got a good laugh out of watching it though. I suppose I would have ruined the fun if I took the dog to a trainer. (For him, I personally would rather not have my arm pulled out of the socket.)
Unfortunately, my Siberian Husky passed away before I discovered the Walk in Sync program. My sweet little Cocker Spaniel does not have the ability to pull me off of my feet. But, he still has that same curiosity and I would love to be able to have the kids walk him once in a while. In order to do that, I really need to train the dog to walk beside us and not pull ahead. (I like their arms to stay in the socket, too. See what a good mom I am.)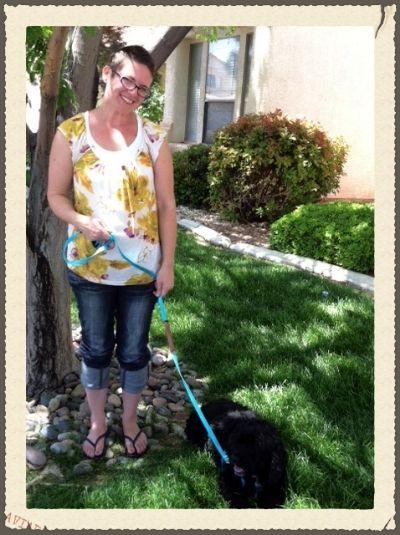 The Walk In Sync™ Humane Dog Walking and Training System was designed by veteran trainer Alecia Evans. In just 3 Easy Steps, using their proprietary Walk In Sync™ Harness and Accu-Grip Leash training tools and following their revolutionary Walk In Sync™ 3 Easy Steps Training Method, you will prevent the pulling habit.
The directions are easy and it is only three simple steps to use. I love using it with my dog.