I am going to be honest, I know nothing about essential oils. I have smelled them in some stores and had some massaged into my back during a spa massage. But that was pretty much my exposure. I have some friends who swear by them and I wanted to give it a try.
Plant Therapy sent me their Top 6 Synergies Sampler Set. I immediately opened each bottle to smell them. I really love the smell of these. Very soothing. But, I really had no idea what to do with them, so I did some internet research. I learned quite a bit.
One popular way is to inhale them through diffusers or facial steam. I put some on a cotton ball in a zip lock bag, which I smelled when needed. Another way is topical. This can be done  through massages, compresses, and baths. I like to put a very small drop on the inside of my wrists and behind my ears, kind of like perfume. Only I think it smells better than perfume. Another way is through ingestion, but Plant Therapy doesn't recommend it.

The Top
Top 6 Synergies Sampler
set comes with 6 essential oil blends; Sensual, Energy, Germ Fighter, Relax, Immune-aid, and Tranquil.
The Sensual is meant to be an aphrodisiac.

The Energy is a great pick me up when you're feeling lack luster, or you could use it before a workout.

The Germ Fighter has a fun story behind it that you can tell your kids. It was created based on studies on the concoction of herbs and plants used by thieves in medieval times to protect themselves from the plague and other diseases while they robbed their victims. Plus, in 1997, studies conducted at Weber State University showed the oils in this blend to have a 99.96% success rate against airborne bacteria.

Relax is perfect after getting home from a long day from work or, for me, right after the kids go to bed.

Immune-Aid was made to protect your family from germs and viruses. It has anti-viral and antibacterial properties.

Tranquil is a great stress reducer. It calms you. I personally use it with my two ADHD children. They know when they are getting hyper to "smell their wrists".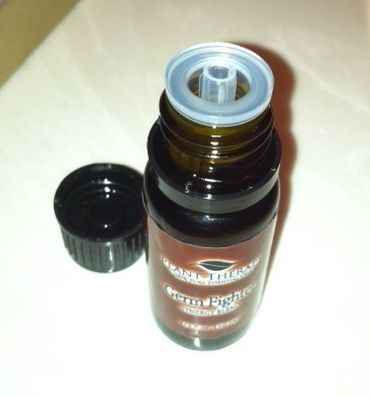 A portion of Plant Therapy profits are donated to the Africa Heartwood Project.
You can find Plant Therapy on their website, blog, and Facebook.
Disclaimer: The previous post may contain affiliate links. If these links are clicked, I may receive monetary compensation. If this is a product review, I received a free sample to facilitate my review.  No monetary compensation was provided.  All opinions are completely my own.  My participation is voluntary.   I am disclosing in accordance with FTC 16 CFR Part 255.