Today I went to NY NY Hotel and Casino to support my husband who was shaving his head to support the St. Baldrick's Foundation. This beautiful woman walked by who had just shaved her head and I was filled with enormous pride that she would do that for others. Then, my nine year old spoke up and said, "I want to shave my head." He walked around with a sign to gather donations and raised $170 in only 15 minutes! I was very caught up in the moment and incredibly inspired.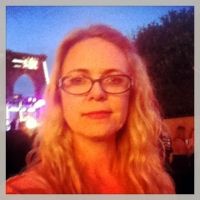 So, I decided to shave my head. I marched right up on to a stage in front of hundreds of people and willingly allowed them sheer off my beautiful long hair. The first thing the stylist did, was put my hair in a ponytail and  cut it off. She handed me this ponytail and recommended I donate it to Locks of Love. Which I will be doing of course. It was at that point that I began to cry. It was such an emotional thing to be taking off all of my hair. I have never had short hair in my life. The MC kept announcing how amazing my son and I were and all these people were cheering us on.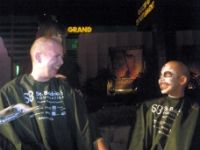 Then, I could feel the clippers shaving up along my head. All I could think about was how incredibly hard it was for me to contain my emotions and remain strong for my family. I can't imagine how hard it is for those people who have to shave their heads because their hair is falling out from cancer treatments. It is a truly overwhelming experience and I am not suffering from an illness.
My son and I held hands through the whole thing, and I am incredibly proud of him for wanting to be so selfless. 
I am trying to raise $200 dollars for this wonderful cause. If you would like to donate, my link is http://www.stbaldricks.org/participants/mypage/614634/2013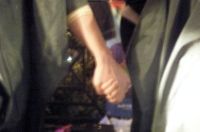 Now, let me tell you why we did this.
More children are lost to cancer in the U.S. than any other disease -in actuality, more than many various childhood diseases combined.

Before they turn 20, about 1 in 300 boys and 1 in 333 girls will have cancer.

Worldwide, a child is diagnosed every 3 minutes.

In the 1950s, almost all kids diagnosed with cancer died. Because of research, now about 85% of kids with the most common type of cancer will live. But for many other types, progress has been limited, and for some children there is still little hope for a cure.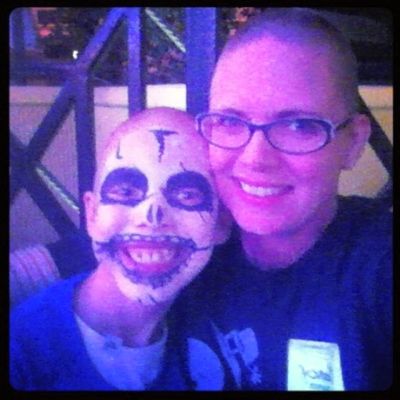 Why is childhood cancer so different?
The cancers that strike children -and there are many -are different from adult cancers:

Childhood cancers are not associated to lifestyle factors, and not much can be done to prevent them.

 Some cancers almost never strike after the age of 5; others happen oftentimes in teenagers. Even when kids get cancers that adults get -like lymphoma -they need to be treated differently. Children are not simply smaller adults!

A number of adult cancers can be identified early. In 80% of kids, cancer has already spread to different parts of the body by the time it is diagnosed.

There are around a dozen kinds of childhood cancers, and countless subtypes, making it more difficult for researchers to find cures for every kid.
(This research is from the St. Baldric's Foundation.)
Nancy
Co Owner, Education, Product Reviews, Giveaways
I am a mom of three outrageous boys. Life is never boring. Besides being a mom, I love reading, crafts of every kind, and traveling. I am a primary school teacher of 16 years with a Masters in technology and an endorsement in reading. Unfortunately, I am also a Facebook addict.