BodyMedia Fit
January 4, 2013 in Reviews
I can't tell you how much I love my BodyMedia Fit Link Arm Band and Online Software tool. It is amazing. I have synced it up with both my computer and my IPhone. I wear it every day for 23 hours. Using one hour to sync it up to my computer, as well as power up the battery.
The band plus the software (both computer & mobile) is an amazing tool to help you stay fit or lose those excess pounds. When you sign up, it has you set goals; lose weight, maintain weight, or get active. Then it provides you with the number of things you need to do in order to complete your goal. The band automatically tracks your sleep, calories burned, number of steps taken, and physical activity. You add the nutrition information yourself. This is easy to do because the software has a database of over 30,000 foods to choose from. Or you can create your own recipes or personal items. I do all of this from my IPhone because I always have it with me.
I have only been using this so far to stay within the recommended daily calories and to keep track of my activity.  By keeping track of my activity, I can see that I need to add more steps each day, as well as add more exercise. I was pleased to see that my normal daily activities, such as running after the kids and laundry has actually been pretty decent moderate activity. By reading these results, I can tell that losing weight will actually not be so overwhelming.
Should I choose to analyze my results more, I can get a nutritional assessment that can give me the nutritional value of my diet. I can read the reports through the sleep analysis tool to determine how long it took me to fall asleep, as well as get a profile of my sleep cycle. I can also generate graphs on all of the items being tracked.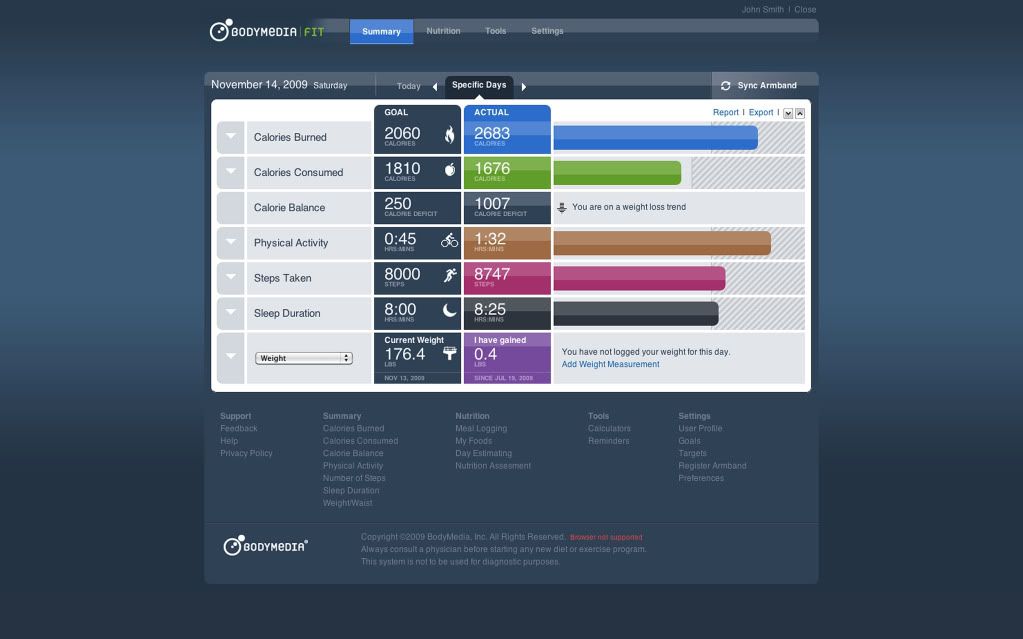 I also like that I can connect my arm band to third party apps. There are a couple that record your physical activity and reward you with points that can be traded for gift cards. This of course makes me want to exercise more!
BodyMedia can be found on their web page, Facebook, Twitter, Pinterest, and Youtube
Want to win a Body Media Fit Link Armband for yourself? Go to the Get Fit Giveaway.
Disclaimer: The previous post may contain affiliate links. If these links are clicked, I may receive monetary compensation. If this is a product review, I received a free sample to facilitate my review.  No monetary compensation was provided.  All opinions are completely my own.  My participation is voluntary.   I am disclosing in accordance with FTC 16 CFR Part 255.    
The following two tabs change content below.
Nancy
Co Owner, Education, Product Reviews, Giveaways
I am a mom of three outrageous boys. Life is never boring. Besides being a mom, I love reading, crafts of every kind, and traveling. I am a primary school teacher of 16 years with a Masters in technology and an endorsement in reading. Unfortunately, I am also a Facebook addict.